Working together to keep your pets healthy and safe!
About pets in Brooklyn Park
You can have three animals over six months old at your home. Please keep your animals safe and clean up after them.
What are the steps I need to take for my pet?
Make sure your pet wears their identification (ID) tags at all times.
Identification includes veterinarian issued rabies tags or any tags or collars with contact information and phone numbers inscribed on it.
In addition to ID tags, animals with updated micro chips will assist in returning animals home.
Your pets must be vaccinated to prevent rabies.
Taking care of your pets in the neighborhood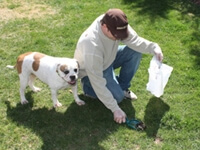 You are required to clean up after your pet.
Your pets must be on a leash whenever they are off of your property.
Prevent conflict by avoiding too much noise (barking).
Where can I take my dog without a leash?
Brooklyn Park offers two dog parks; Brookdale Park and the Environmental Nature Area. Leashes are required in all other parks and trails.
View more information on our dog parks >
What if my animal bites people or animals?
They may be labeled as potentially dangerous or dangerous.
If labeled dangerous, the person keeping the dangerous animal must meet certain conditions or you will be guilty of a criminal offense.
What animals are not allowed as pets?
Animals that are considered wild by nature or pose a danger to the community.
Farm animals living on property not zoned as farmland (5 acres or more).
Birds/fowl such as ducks, pigeons, or chickens living on property that is not zoned as farmland.
Can I raise bees?
The City allows beekeeping! Here are some helpful tips about beekeeping:
An approved registration is required to keep bees.
Neighbors will receive a notification before registration is approved.
Beekeepers are required to have bee education.
Hives are not allowed in the front yard and must be located at least 10 feet from rear and side property lines and 20 feet from public right-of-ways.
View more information about beekeeping
Wild animals
Living in Brooklyn Park, you might see non-domestic wildlife. Don't feed the wildlife including deer and squirrels. It is not allowed and can attract unwanted animals to neighboring properties.
The Humane Society has some information about wildlife you may encounter.
Learn about wild animals from the Humane Society >
Reporting violations
For animal, feces, fowl or unapproved animals
Phone and email
Pang Yang
Environmental Health
763-493-8070
Email Pang Yang
Si usted necesita asistencia en español, llame 763-493-8070 oprima cinco (5)
Yog koj tsis tau tau es yuav lub Hmoob hu 763-493-8070 nias xoom (0)
For animal noise, loose animals, dangerous animal, animal bites, more than 3 pets on property or wild animals
Police Department
911
Lost pets
For information on lost pets, please visit our page on animal control.