Reduce, reuse, recycle!
Recycling collection delay update
Due to the icy roads on Saturday (12/28), Waste Management pulled their trucks off the roads. A number of garbage haulers pulled their trucks as well.
Waste Management will resume recycling collection in the zone north of Highway 610 on Monday. The plan is to collect the Oak Grove and Northwoods neighborhoods on Wednesday, Jan. 1.
Collection east of Noble Parkway will be on Monday, December 30. Collection between Noble Parkway and Zane Ave/Douglas Drive will be on Tuesday, Dec. 31.
If you have extra recycling due to the holidays, you can place it in paper bags (never use plastic bags) and place those bags next to your cart. You can also bring extra recycling to the Hennepin County Drop-Off Facility, 8100 Jefferson Highway. They are open for free recycling drop off Tuesdays – Saturdays.
Check with your garbage hauler for their collection schedule. List of garbage haulers
Thank you for your patience.
How to recycle
How to place items in your cart
We have single sort recycling, which means you don't separate items. Everything goes together in the cart! All recyclable items should be placed loosely in the cart (do not use plastic bags). If your cart is full, you can put extra recyclables in paper bags and place them next to your cart at the curb on your pick-up day.
Cart size
Recycling carts are available in three sizes:
Small, 32 gallons
Medium, 64 gallons (standard size)
Large, 96 gallons
There's no price difference between the three sizes and there's no fee to switch. To get a bigger or smaller cart, a second cart or request repairs contact us.
Walk-up services
Residents with mobility concerns can request temporary or permanent walk-up service. There is no charge for this service.
Phone and email
Recycling Services
763-493-8006
Email Recycling Services Staff
Recyclable items
What can be put in your recycling cart?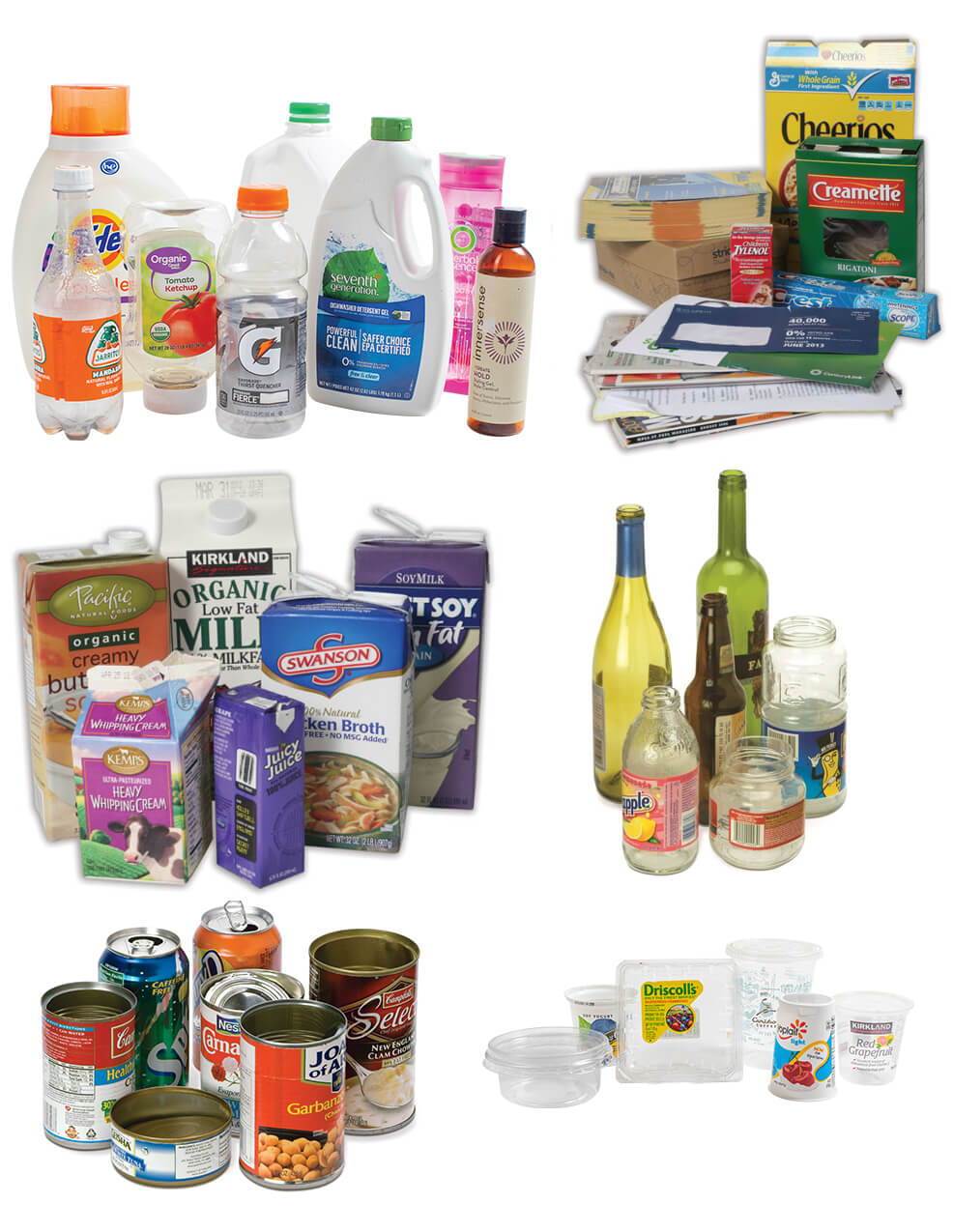 These items can be put in your cart loose (not in plastic bags):
Plastics
Bottles (pour out liquid and put caps back on)
Jugs
Cups
Containers
Paper
Mail
Magazines and catalogs
Paper bags
Newspaper and ads
Cardboard (flatten boxes, tape together in bundles 3′ x 3′ x 6″ and place next to cart)
Boxes from cereal, crackers, toothpaste, medication and other toiletries
Shoe boxes. gift boxes
Take out or delivery pizza boxes (no food or grease, remove plastic items)
Shredded paper in closed paper bags
Cartons
Milk cartons
Soup cartons
Juice boxes
Glass
Metal
What cannot be put in your cart?
These items cannot go in your cart:
Garbage, food waste, diapers
Plastic bags and wrap
Refrigerated or frozen food boxes
Styrofoam cups, plates and packaging
Paper towels, plates, napkins and tissues
Window glass, drinking glasses, mirrors, light bulbs
Motor oil bottles and other containers that held hazardous products
Leaves, grass, brush
Wood and drywall
Needles and nails
Black plastic items
More information
Even though these items cannot go in your cart, some items can still be recycled.
Electronic and hazardous materials
Don't see your item on the list? View our Recycling Guide with information on how to deal with other items.
Recycling schedule
When is household recycling collected?
Your cart must be at the curb by 6:30 a.m. on your recycling day and will be picked up no later than 6:30 p.m. Route schedules can change due to weather, road work, mechanical repairs etc.
Recycling is collected every other week. View Recycling Week calendar (PDF).
Find which day of the week your recycling is collected
Launch the interactive map to find your recycling day
Reminders
You can get email or texts message reminders for which week is a recycling week.
Sign up for recycling pickup reminders You can select email or text.
When is apartment recycling collected?
Apartment recycling is collected weekly. Residents must bring their recyclables to their apartment's waste enclosure.
Holiday collection
There is no recycling collection on:
New Year's Day
Memorial Day
Independence Day
Labor Day
Thanksgiving Day
Christmas Day
If your regular collection day falls on or after one of these holidays, your service will be delayed by one day.
Missed collection
If your recycling cart was out by 6:30 a.m. on your pick-up day but was not collected by 6:30 p.m., email or call Recycling Services at 763-493-8006 by noon the next business day to report it was missed and schedule a pickup. Leave a message if calling after hours.
Recycling fees
Hauler and fees
The city contracts with one company (currently Waste Management) to provide curbside recycling. The fees for recycling services are paid by property owners through their utility bill.
Where else can I take recycling?
The Hennepin County Recycling and Transfer Station, will take regular recycling and many items that cannot be put in the curbside cart.
Hennepin County Recycling and Transfer Station
8100 Jefferson Highway N.
Brooklyn Park, MN 55445
View map and directions to Hennepin County Recycling and Transfer Station
Visit the Hennepin County Drop-off Facilities webpage
Hours
| | |
| --- | --- |
| Days | Hours |
| Tuesday, Thursday, Friday | 10:00 a.m. to 6:00 p.m. |
| Wednesday | 10:00 a.m. to 8:00 p.m. |
| Saturday | 8:00 a.m. to 5:00 p.m. (no organics dropoff) |
| Sunday, Monday, Holidays | Closed |
Phone and email
612-348-3777
Email Hennepin County Environmental Services