With over 60 parks and trails and over 400 park amenities, there's something for everyone in Brooklyn Park!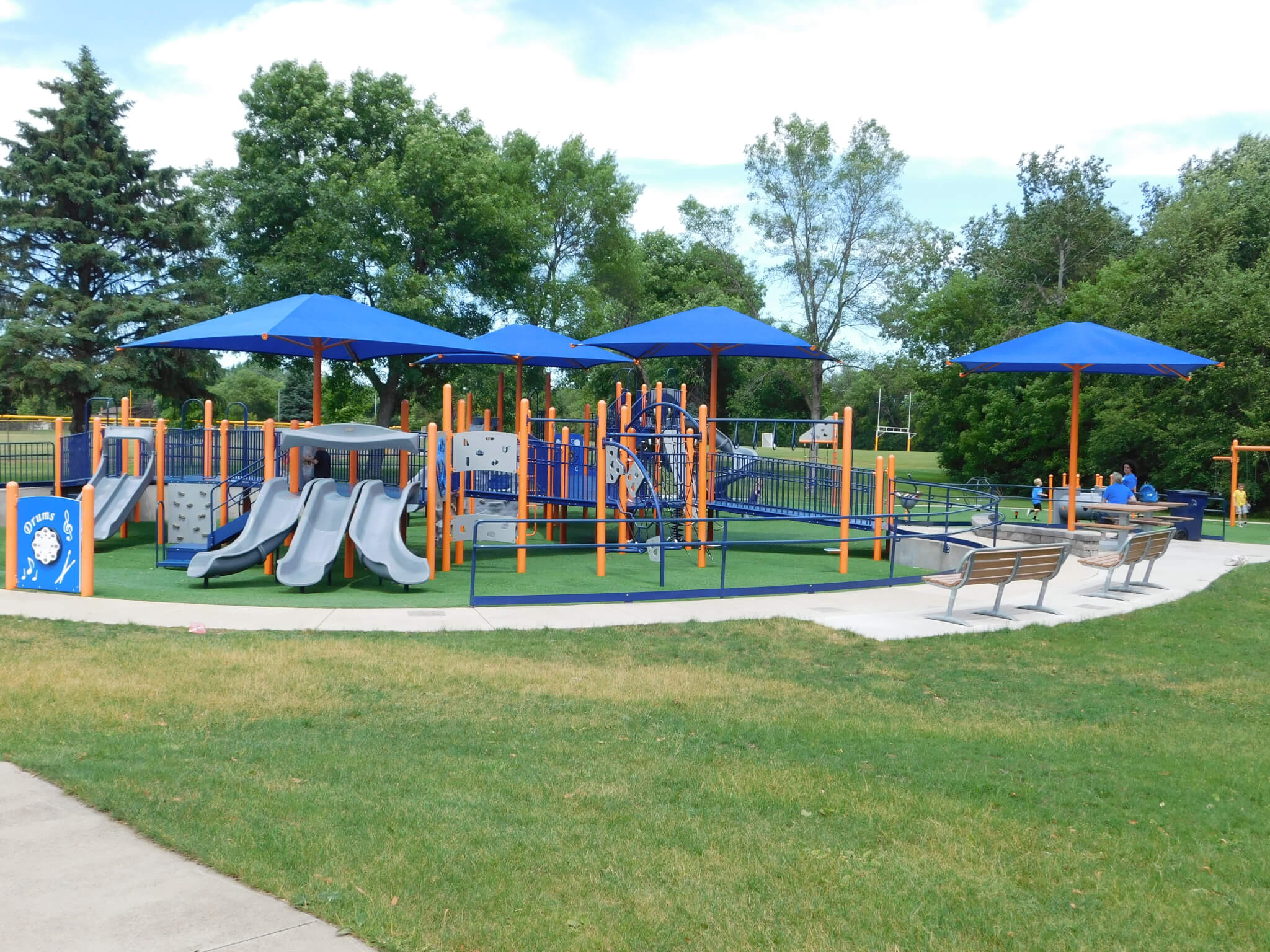 Find local park amenities using our Park Finder >
Download the Parks and Trails Map (PDF) >
All-inclusive playground
Brooklyn Park's all-inclusive playground is at Northwoods Park. "All-inclusive" means that most everyone can enjoy and access the entire playground. The surfacing is artificial turf, to help provide a clean surface that allows most people to move to all areas of the playground. There are many special features to check out!
Wheelchair softball field
The first and only dedicated competitive wheelchair softball field in the five-state area is located in Northwoods Park. This color-coated asphalt surface is home to the Rolling Twins and Junior Rolling Twins and dedicated to Todd Anderson. Everyone is able to use the field for kickball, whiffle ball, or any field sport.
Archery range
An archery range is located in the northeast corner of Brooklyn Park in the Environmental Nature Area (10201 West River Rd) and is available for use during park hours. It offers six shooting stations with targets at 10, 20, 30, 40 and 50-yard distances. Mechanical or fixed-blade broad heads are not allowed.
Athletic fields
There are 30 parks that have athletic fields with more than 70 softball or baseball fields and 19 soccer fields; they are available to rent for games and tournaments. The City has two sports parks at Zane Sports Park and Noble Sports Park with 16 soccer fields, 5 baseball and 8 softball fields. Northwoods Sports Park has four fields and a concession stand. Fields can be reserved and rented for private group use. Some fields are lighted for evening game use and can also be used for lacrosse and football.
Basketball courts
Love playing basketball outdoors? Visit Brookdale Park, Central, Brook Oaks, Edinbrook, Lakeland, Noble Sports Park, Norwood, Orchard Tail, Pinebrook, River Park, Sunkist, Willows of Aspen, Willowstone or Zanewood. Many schools also have courts to play on.
Boat launch
Public access for boats to the Mississippi River is at River Park. The launch provides a wide ramp, lots of room to position your trailer, plenty of trailer parking stalls, and a pull-out area to clean off the boat and trailer. Use caution: water levels fluctuate and river conditions can change rapidly.
Community gardens
Grow your own vegetables and flowers. We have two locations where you can purchase a garden plot.
Learn more about community gardens >
Cricket pitch
The Minnesota Cricket Association plays matches at the field at Lakeland Park on most weekends throughout the summer. Cricket is popular around the world. Watch for clinics and informal games as well.
Disc golf
A 9-hole disc golf course weaves its way through Central Park. The course is free to the public. Discs and refreshments are available for purchase at the Brookland Golf Park Clubhouse. Orchard Trail Park also has a few disc golf baskets to practice your tosses and create your own course.
Dog parks
Brooklyn Park offers two dog parks; Brookdale Park and the Environmental Park Area. The dog parks are for dogs to exercise alongside their human companions and fellow canines and are open year-round during regular park hours.
Learn more about our dog parks >
Fishing pond
Sunfish Pond is located at the Community Activity Center and is an attractive amenity for youth and families to enjoy the lifelong sport of fishing.
Geocaching in the parks
Geocaching is a real world outdoor treasure hunting game. Players try to locate hidden containers, called geocaches, using GPS-enabled devices to navigate to a specific set of GPS coordinates and then attempt to find the geocache (container) hidden at that location.
Hockey rink
Our hard-surface outdoor rink at Central Park allows for in-line skating and hockey roller blading during the spring and summer.
Ice rinks (outdoor)
Central Park has two rinks with a supervised warming house open evening and weekend hours. Rinks are maintained at parks around the city. Residents can check out the warming house keys for neighborhood gatherings, hockey practices, and group events.
Paddle Share
Brooklyn Park is a proud partner of the Mississippi River Paddle Share program. This program is a self-serve kayak sharing system, which allows participants to paddle along the Mississippi River to various locations throughout the metro area. River Park in Brooklyn Park is one of those locations. Learn more.
Pickleball courts
Pickleball is one of the fastest-growing sports in the nation. Pickleball can be described as a miniature version of tennis or a gigantic version of ping-pong! Courts are available at Bass Creek Park, Norwood Park and indoors at Zanewood and the Community Activity Center in winter months. Some equipment is provided at the Community Activity Center.
Playgrounds
Go to one of our many playgrounds in Brooklyn Park. For a listing of parks with playgrounds, stop by the Community Activity Center and get a one-page tear-off map or a parks and trails map.
Skate park
A free and open to the public skate park is located at the Community Activity Center. The skate park challenges a wide range of age groups and skill levels with ramps and rails made of high-grade weather-resistant materials on about 6,000 sq. feet of concrete surface.
Learn more about the skate park >
Sledding hills
Central Park and Brookdale Park sledding hills will fulfill your need for a snow sledding adventure. Come out and enjoy the Minnesota winter on these sledding hills.
Trails
The City plows many of the trails all winter long so you can continue walking in the winter time.
Find local park amenities using our Park Finder >
Download the Parks and Trails Map (PDF) >